ATP Series
Connector Solutions
ATP Series™ connectors are designed as a high-performance, cost-effective, thermoplastic solution to be used within the Marine, Heavy Equipment, Agricultural, Automotive, Alternative Energy fields, as well as other demanding interconnect applications. Available in 2 and 4 position options, the ATP Series™ Connectors contain superior environmental seals, seal retention capabilities and are designed for use with 10-14AWG with size 12 contacts handling up to 25A.
ATP Series™ connectors are compatible with other existing standard products industry-wide.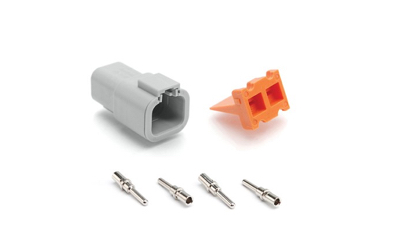 *Each item sold separately
*Each item sold separately
*Each item sold separately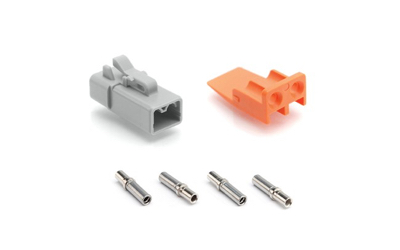 *Each item sold separately
Pin Contacts
Nickel-plated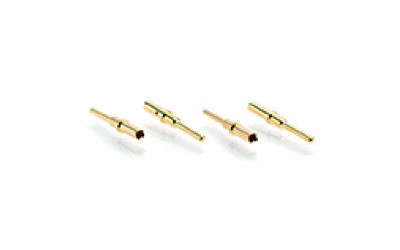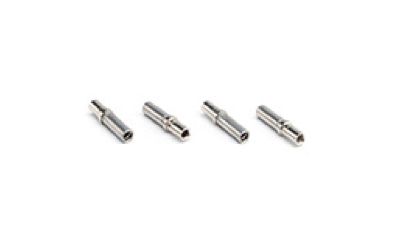 Socket Contacts
Nickel-plated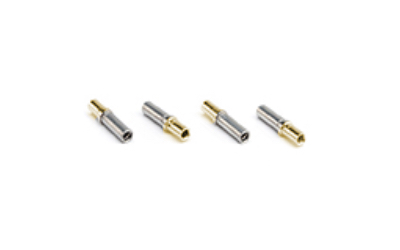 Socket Contacts
Gold-plated
Features & Benefits
Current Capacity
Size 12, 25A (max)
Wire Range
Size 12 contacts will accept wire ranges of 12 thru 14AWG
Operating temperature range
-55°C to +125°C. Continuous at rated current.
Dielectric Withstanding Voltage
Current leak less than 2 milliamps at 1500 VAC
Drop Test
Shall not become detached or loosened when placed at 750mm and dropped to concrete eight times
Physical Shock
No unlocking, unmating or other unsatisfactory results during or after 50 G's in each of three usually perpendicular planes. No electrical discontinuities longer than 1 microsecond. MIL-STD 202. Method 213, Condition "C".
Vibration
Maintains continuity and exhibits no mechanical or physical damage after vibration levels of 20 G's at 10-2000 Hz

Insulation Resistance
1000 megohms minimum at 25°C
Corrosion Resistance
Connectors show no evidence of corrosion after exposure to 48 hours of salt spray per MIL – STD 1344, method 1001.
Submersion
IP67. Wired and mated connection will withstand immersion under three feet of water without loss of electronic qualities or leakage.
Fluid Resistance
Connectors show no damage when exposed to most fluids used in industrial application.
Contact Retention ?Contacts(Minimum Load)
70lbs. for Size 12 contacts.
Thermal Cycle
No cracking, chipping or leaking after 20 test cycles from -55°C to +125°C.
Durability
No electrical or mechanical defects after 100 cycles of engagement and disengagement.
Product Material
Housings
Thermoplastic
Seals
Silicone Elastomer
Wedge
Thermoplastic
Contacts
Pins: Copper alloy; Sockets: Copper alloy; Finish: Nickel-plated (optional Gold)

| | |
| --- | --- |
| ATP04-2P | DTP04-2P |
| ATP04-4P | DTP04-4P |
| ATP06-2S | DTP06-2S |
| ATP06-4S | DTP06-4S |
| | |
| --- | --- |
| AWP-2P | WP-2P |
| AWP-2S | WP-2S |
| AWP-4P | WP-4P |
| AWP-4S | WP-4S |